About Our Office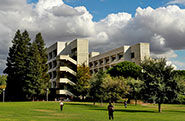 CSB 50
Introduction to business careers, career development, educational options, and opportunities provided by the Craig School of Business. Emphasis on CSB requirements, resources, and expectations. Presentation of topics by faculty, staff, alumni, and business executives.
Prerequisites: Open to all pre-business, business major, and business minor, registered students.
Units: 1
Grading: CR/NC only (credit/no credit)
Course Typically Offered: Fall, Spring
Career Placement/Resume Development
Students interested in full or part-time jobs, on-campus interviews with prospective employers, and resume/interview preparation can avail themselves of the many opportunities provided by the Craig School's Office of Internships and Applied Experiences. Just log into SYNERGY to get the most up-to-date information available.

Employers are encouraged to log into SYNERGY or directly contact our Office of Internships and Applied Experience. They speak business and can provide you with personal attention in your quest for just the right employee.
Internship
The Craig School Internship Program is different than a part time job. Unlike a part time job, a student receives academic credit upon completion of an Internship. Also, the Internship (designed by the student and employer) provides the student with a progressive learning and growth experience, rather than a repetitive activity which is usually associated with a part time job. From an employer's perspective, an Internship is a great way to identify and attract prospective full time employees prior to their graduation. Employers can contact the Internship Program office to create internship opportunities for students.
Prerequisites: Declaration of Business Administration as a major, completion of one upper-division course in your option, 2.5 GPA, permission of internship coordinator.
Requirements: 150 hours of work at a pre-qualified, academically-related work station (business, government or nonprofit agency). Reflective journal, final report, and work station evaluation. As a course substitution, prior department approval required.
Units: 3, Repeatable up to 6 units. Only one internship may count towards option requirements.
Grading: CR/NC only (credit/no credit)
Course Typically Offered: Fall, Spring, Summer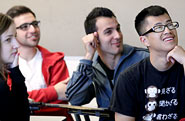 Mentorship
We offer a Mentorship Program (CSB 150, Strategies for Success) which provides students with a great opportunity to explore different areas of business with a specially selected mentor from the local business community. A mentorship differs from an internship; it is based solely on an advisory capacity and friendly guidance relationship by the employer to the student; instead of a working relationship where the student is obligated to contribute to the employer in daily or weekly work tasks, while also being trained in new skill sets. A mentor is an experienced and trusted person who gives another person advice and help, especially related to work and school, over a period of time. Mentorship activities are developed collaboratively between the student and their mentor; based on the needs of the student. Mentors receive satisfaction from the opportunity to help others achieve their career goals; and the chance to give back to the university and community by developing successful students. Mentorship is an experience of discovery. It is an opportunity for a first chance of exposure to a field of their interest, and exclusive access to a professional to talk with one-on-one.
Prerequisites: The Mentorship Program at Craig School of Business is open to all pre-business, business major, and business minor, registered students.
Requirements: Several milestones of accountability are required to successfully benefit from the program; a minimum of 8 hours of contact time with a mentor (total) over a semester; a Student Learning and Development Plan sheet; Mentorship Agreement form, Mentorship Activity Log, Reflective Summary of a Brief Related Story, and a Final Summary Sheet. In addition, the student will have two scheduled brief meetings with the program coordinator; these will be an update meeting at the mid-semester; and a final summary meeting at the end of the semester.
Units: 1 (credit is awarded only one time; students can participate in mentorship in multiple semesters in a subsequent non-enrolled basis)
Grading: CR/NC only (credit/no credit)
Course Typically Offered: Fall, Spring (permission numbers for enrollment are issued only by the program coordinator)